Restaurant Designs
Hong Kong, one of the world's fashion capitals, is a fitting location for McDonald's most chic and stylish restaurants. Created by internationally renowned architects, our exciting "Ray", "Essential Ingredients", "Geometry" and "Playground" interior concepts create specific atmospheres and moods to deliver a differentiated, "designer" dining experience.
Have fun with Geometry
The Geometry design features a compelling concoction of geometrical illustrations, grey concrete panels and minimal light color wood finishes for a clean and modern interior. Spiced up with pops of fun and energetic orange red, Geometry embodies the perfect balance between sophistication and playfulness.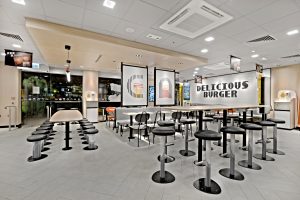 A Taste of Essential Ingredients
Big City in My Playground
To bring a blissful experience to families and kids, the Playground design uses curved shapes and bright colors to convey comfort and happiness. We are incorporating thoughtful family facilities, such as comfortable Baby Care Rooms and children-friendly play areas and fun-filled PlayPlace.