Our History
As Ray Kroc, our founder, once said: "We take the hamburger business more seriously than anyone else". From the very beginning, Ray Kroc's energy and vision formed the foundation of the McDonald's business.

At McDonald's Hong Kong, we don't just live by our founder's values. We are also passionate about exceeding them. We find ways to go above and beyond, and bring Ray's vision to life in new and compelling ways. By taking the best of what McDonald's globally has to offer, and combining with Hong Kong's unique mindset, skillset and entrepreneurial spirit, McDonald's Hong Kong has become one of the most successful McDonald's market operations in the world. We're proud to be part of the Hong Kong community, because we see it as our job to bring a smile to every customer who walks to our doors.

Since 1975, we've served Hong Kong some of its favorite meals. And along the way, we've grown with our communities by serving quality food with excellent quick service, a high standard of cleanliness and great value. We've also evolved our business to meet the needs of our customers: from 24-hour service to McCafé®, 24-hour McDelivery, Experience of the Future service concept, McDonald's App and more. We've taken our founder's vision an exciting journey - and it's just the beginning.
2010 - Now
2000 - 2009
1990 - 1999
1980 - 1989
1975 - 1979
2020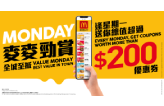 McDonald's App upgrade with an enhanced interface and value offers every week.
2019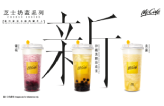 McCafé celebrates 20th Anniversary with the introduction of Cheese Series.
2018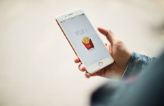 An all-in-one McDonald's App combining various features under one interface was launched. Customers can enjoy different promotional offers, do mobile ordering and get access to nutrition information of McDonald's food with just one click.
2017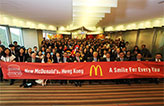 Strategic partnership formed between CITIC Limited, CITIC Capital, The Carlyle Group and McDonald's will act as the master franchisee responsible for McDonald's businesses in Hong Kong for a term of 20 years. The partnership will help uplift McDonald's Hong Kong's journey towards a new generation of customer experience while placing us closer to our customers and the communities we serve.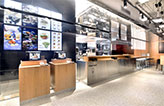 Brand new service concept "Experience of the Future" was launched with new restaurant designs, attentive and convenient services and facilities, professional Guest Experience Team and the next generation of burger experience to deliver an all-round uplift in dining experience.
2016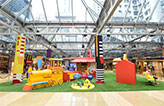 The first McDonald's Toy Museum exhibition displayed over 1,000 pieces of toy collectibles and giant installations replicating classic McDonald's restaurant decor, bringing happy moments to children and adults.
2015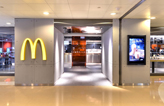 Launched Hong Kong's First McDonald's Concept Restaurant in Admiralty Center.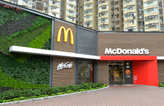 Tai Wo McDonald's is our first Family Flagship Store with Baby Care Room and Our only outdoor PlayPlace in Hong Kong.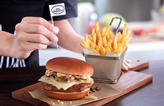 Create Your Taste Debuted in Hong Kong.
2014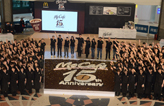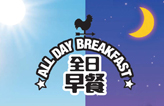 Launched All Day Breakfast campaign on 1st January to wish Hong Kong people a great start to the new year.
2013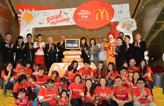 Aiming at giving back to the community, McDonald's given away 230,000 Egg McMuffins® on National Breakfast Day as well as donated an additional 10,000 Egg McMuffins to Hong Kong Red Cross.
2012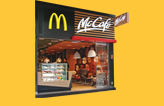 The first New Concept McCafé in Hong Kong officially opened in Quarry Bay.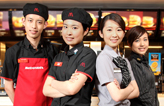 McDonald's Hong Kong sent an Olympic Champion Crew team to the London Olympic Games to serve athletes and tourists from around the world.
2011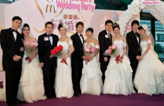 Officially launched the world's first McDonald's Wedding Party service, which has attracted media attention from around the world.
2010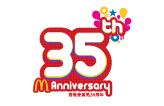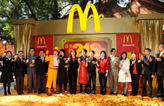 218th restaurant was opened in Shatin's Kwong Yuen Estate, breaking the previous total restaurant number record.
Around 350 performers danced for
5 minutes to break the Guinness World Record for the largest bamboo dance, and set off a vibrant series of celebrations for
McDonald's 35th Anniversary.
2009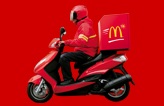 24-hour McDelivery service was fully launched.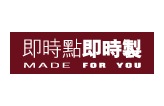 "Made For You" system was introduced, providing customers with simple, easy and enjoyable dining experiences.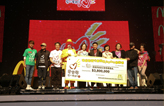 McHappy Day was the new banner for the McDonald's annual global fundraiser, which is an important way to call attention to helping children in need.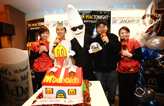 MacTonight Birthday Party was introduced, offering customers the opportunity to count down to their birthdays with family and friends.
2008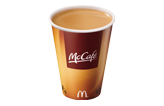 McCafé Ground Coffee was introduced to all McDonald's Restaurants.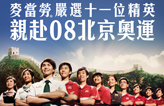 The largest Olympic Champion Crew Team from McDonald's Hong Kong was selected to visit the Beijing Olympic Games.
"Share to Love, Love to Share – Lesson Learned" won a number of popular TV commercial awards.
2007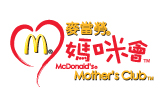 McDonald's Mother's Club was founded, aimed at providing members with a source of information and support.
2006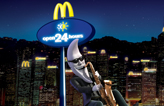 24-hour MacTonight services were fully launched.
Admiralty Centre McDonald's was the first restaurant with WiFi.
Joined the Environmental Protection Department's Rechargeable Batteries Recycling Program.
2005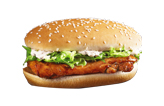 Grilled Chicken Burger was introduced.
To celebrate World Children's Day at McDonald's, McDonald's Hong Kong organized the first Charity Concert and Kidathon to raise funds for children in need.
30th anniversary.
McDonald's Fun Club was founded.
2004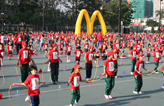 World Children's Day at McDonald's 2004 broke the Guinness World Record for the most people jumping rope simultaneously.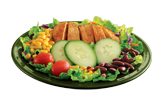 Fresh Choices Menu was introduced.
2003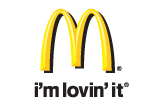 Unveiled "i'm lovin' it" worldwide brand campaign.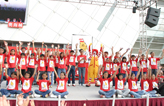 World Children's Day at McDonald's 2003 broke the Guinness World Record for the most people performing sign language simultaneously.
2002
Sent a team to the Olympic Winter Games for the first time. They worked at the Olympic Village of the US Salt Lake City Winter Olympics.
In acknowledgement of the anniversary of the United Nations' adoption of the Convention on the Rights of the Child on 20th November, 1989, McDonald's designated
20th November as World Children's Day at McDonald's. World Children's Day is an annual worldwide fundraising campaign to benefit children in need.
2001
Received the Next Magazine 12th Top Service Award under the Catering and Innovation categories.
2000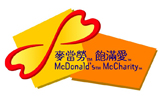 Launched McDonald's McCharity, which raised funds for different charities.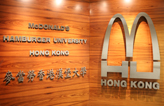 The 7th Hamburger University opened in Hong Kong, providing operations and management training to employees from Hong Kong, China and Taiwan.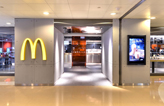 Launched Hong Kong's First McDonald's Concept Restaurant in Admiralty Center.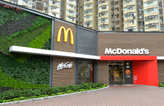 Tai Wo McDonald's is our first Family Flagship Store with Baby Care Room and Our only outdoor PlayPlace in Hong Kong.
1997
First McDonald's Restaurants in the world built inside racecourses (Happy Valley and Shatin).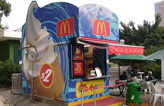 First Dessert Kiosk opened in Kowloon Park.
1996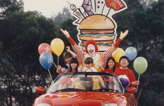 In March, Hong Kong's 100th McDonald's Restaurant opened in
Siu Sai Wan.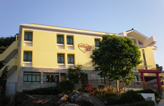 Asia's first Ronald McDonald House opened.
1995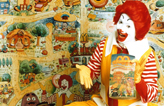 Happy Meals were introduced, with Western Cowboy as the first toy.
1994
In order to promote a sprit of respect for senior citizens, McDonald's Hong Kong participated in the Senior Citizen Welfare Scheme organized by Welfare Department.
1993

Discovery Bay McDonald's on Lantau Island was the first McDonald's Restaurant to open on the outlying islands.
1992
7 out of the top 10 busiest McDonald's Restaurants worldwide were found in Hong Kong. They were restaurants in Telford (Kowloon Bay), Star House (Tsim Sha Tsui), Market Street (Tsuen Wan), New Town Plaza (Shatin), Sai Yeung Choi Street (Mongkok), Trend Plaza (Tuen Mun) and Yue Man Square (Kwun Tong).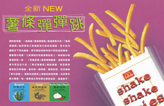 Shake Shake Fries were introduced.
McDonald's Hong Kong sent its first Olympic Champion Crew to Barcelona to serve our world famous food to the world's best athletes, coaches and media.
1991
McDonald's Hong Kong was the first caterer to introduce a "smoke-free" dining environment, receiving accolades from PASS (People Acting for a Smokeless Society).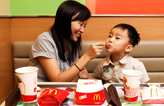 Replaced foam containers with paper wrappers for most of burger products, reducing waste by 80%.
1990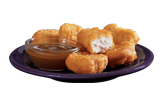 Chicken McNuggets were introduced.
Received Next Magazine's Top Service Awards for the first time. Since then, McDonald's Hong Kong has won many of these Top Service Awards.
1989
New Town Plaza McDonald's in Shatin was among the busiest restaurants in the world with over 2.5 million transactions in the year.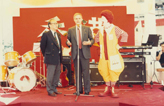 Heng Fa Chuen McDonald's in Chai Wan became the 11,000th McDonald's Restaurant worldwide.
1987
Peking Road McDonald's in Tsim Sha Tsui was the first McDonald's Restaurant in Hong Kong to open 24 hours.
1986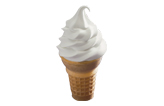 Twist Cone was introduced.
1985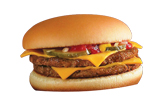 The Double Cheeseburger™ was introduced.
1984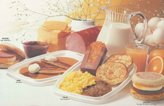 McDonald's Hong Kong was the first international market to introduce a full breakfast menu (Big Breakfast, Hotcakes, Hash Browns).
1983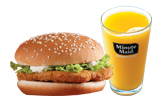 Orange Juice and McChicken were introduced.
1982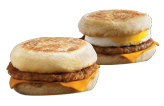 McDonald's Hong Kong was the first Asian market to launch sausage products, including the Sausage McMuffin and Sausage McMuffin with Egg.
1981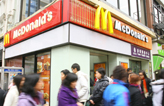 Yue Man Square McDonald's in Kwun Tong broke the previous world daily transaction count record on 18th October.
1978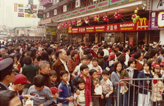 Market Street McDonald's in Tsuen Wan was opened on 18th November, our first restaurant in the New Territories.
1977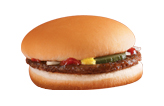 McDonald's Hong Kong sold its one-millionth Hamburger.
1976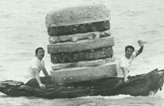 On 15th August, McDonald's Hong Kong opened its first Kowloon store at Yaumatei's Hang Shing Building (the 4th McDonald's Store). To celebrate the grand opening, a giant Big Mac crossed Victoria Harbour by boat.
1975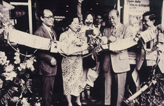 In January, McDonald's Hong Kong opened its first restaurant on Paterson Street, Causeway Bay.